Summary
Bitcoin has gone through a healthy correction of around 30% from recent highs and appears to be consolidating around a critical technical level.
Bitcoin's uptrend seems to be well in tact, implying that higher prices should follow shortly.
Also, it is not just Bitcoin, some systemically important Altcoins should do extraordinarily well in the upcoming environment.
The fiat-based monetary system is in uncharted territory that could lead to increased levels of inflation and a possible loss of confidence in the system.
Bitcoin and other top digital assets are essentially inflation proof and should move much higher in this current Bitcoin bull market wave.
This idea was discussed in more depth with members of my private investing community, Albright Investment Group . Get started today »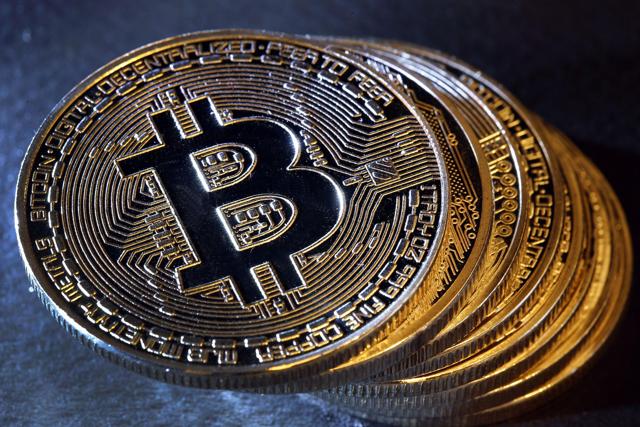 Bitcoin's Moment of Truth Has Arrived
Bitcoin (BTC-USD) is at a significant inflection point right now. It's been trading in a narrowing channel for over a month now, and one of two things is probably about to happen.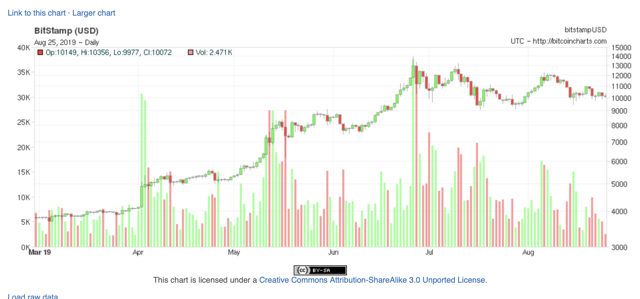 Source: Bitcoincharts.com
Bitcoin can either degrade further, or it could surge much higher to new highs. What's important is that we see positive price action and BTC's uptrend is intact.
However, some recent price action has been rocky, and Bitcoin is down by roughly 30% from its most recent major high of nearly $14K. Nevertheless, prior to BTC's recent drop, Bitcoin was up by a staggering 338% since my "Bitcoin Hits Bottom" article came out late last year.
You didn't expect it would go up forever, did you? Unfortunately, Bitcoin can't fly high continuously; it fluctuates, and can be quite volatile at times. Yet over the long term, the trend has primarily been higher. Also, healthy corrections as the one we've had after the massive run up this year are a natural phenomenon for Bitcoin.
Some important factors to consider:
Bitcoin recently entered a fresh bull market.
Bitcoin and many top altcoins have had significant corrections (30-60%). Many cryptocurrency assets like Zcash, Dash, and others appear extremely undervalued right now.
The current monetary system could implode. Meltdown, or at least decay in future years.
Crypto Enterprises CEs, like Zcash, Dash, Litecoin and others are extremely well positioned as they don't degrade due to inflation and are largely insulated from the problems facing the fiat monetary system.
CEs also give consumers control and power over their own money. This protects the consumer from the central bank continuously diluting their fiat currencies through inflation, massive deficits, QE, negative rates, and other economic anomalies.
In fact, the current financial order may be on the verge of an implosion, especially if a wave of bankruptcies rush through markets in the next recession.
Bitcoin's Long-term Trend is Predominantly Higher
Bitcoin's uptrend has continuously been higher because it was originally developed to protect and possibly try and prevent the next financial crisis. Well, here we are, 10 years later, and we may be standing on the presupposes of another recession.
Only this recession will likely be a lot different from the two previous abrupt crashes and subsequently quick recoveries. This next recession will likely be correlated with a currency crisis due to all the massive monetary easing around the globe and the enormous amounts of debt held by developed governments. There is also nearly $17 trillion in negative yielding government debt around the world now.
The "new normal monetary order" is incredibly bullish for Bitcoin, as it is the ideal source of capital preservation. You own it, and it is essentially immune to central bank engineered inflation, devaluation, and other detrimental government, big bank, and central bank interference and manipulation.
Here is Bitcoin's Long-Term Trend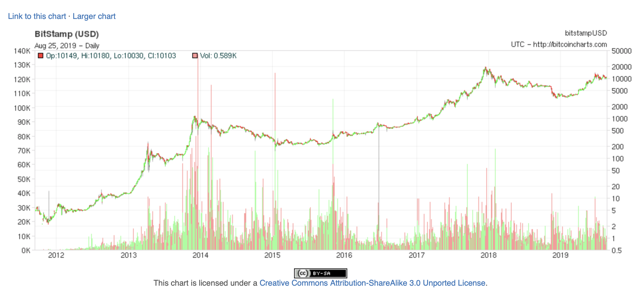 Source: BitcoinCharts.com
We can see that Bitcoin continuously moves in waves as more and more people join the blockchain network. BTC has had several waves higher through its history, and is now going through major wave number 4. Judging by prior research this wave cold ultimately elevate prices to $76-100K within the next few years (2020-2021). This will likely represent the next peak before the cycle repeats all over again in wave 5.
A Closer Look at the Cryptocurrency Complex CCC
Some systemically important coin's future usability, user friendliness, and market share potential appears to be greatly under-appreciated. This makes some of the best coins seem extremely undervalued right now.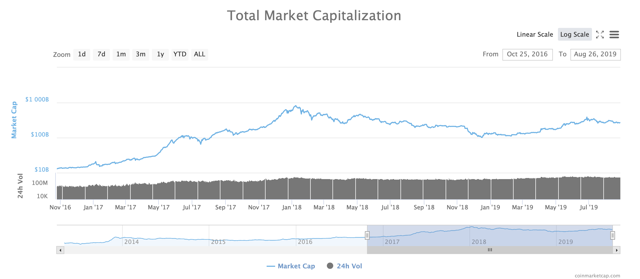 Source: seekingalpha.com