Summary
Lithium carbonate and spodumene prices were basically flat in February.
Lithium market news – Albemarle bullish on lithium outlook. OilPrice.com reports – "Oversold lithium could be about to rally."
Lithium company news – Nemaska Lithium shocks the market announcing they need C$375m more funds.
This idea was discussed in more depth with members of my private investing community, Trend Investing. Get started today »
Welcome to the February 2019 edition of the lithium miner news. This past month saw lithium prices stabilize after the 2018 falls. Most analysts and the miners all remain positive on the outlook for lithium particularly in the mid and long term due to the strong demand story.
Lithium spot and contract price news
During February, 99% lithium carbonate China spot prices were up 1.22%. Spodumene (5% min) were up 1.20%.
Fastmarkets (formerly) Metal Bulletin reports 99.5% lithium carbonate battery grade spot prices cif China, Japan & Korea of US$12-14/kg (12-14,0000/t), and min 56.5% lithium hydroxide battery grade spot prices cif China, Japan & Korea of US$15-17/kg (15-17,0000/t). China lithium spodumene prices are USD 600-750/tonne.
Lithium demand versus supply outlook
On February 6, Benchmark Minerals Blog reported:
In the next decade the demand for lithium [used in the battery industry] is set to go up 9-times, cobalt is set to go up 6-times, nickel is set to go up 5 times, and graphite anode is set to go up 9 times.
On February 6, Mining.com reported:
Benchmark Mineral Intelligence is now tracking 70 lithium ion battery megafactories under construction across four continents, 46 of which are based in China with only five currently planned for the US. When I gave my last testimony in October 2017, the global total was at 17," Moores said…..Moores said that these megafactories are being built almost exclusively to make lithium ion battery cells using two chemistries: nickel-cobalt-manganese [NCM] and nickel-cobalt-aluminium [NCA].
Megafactory Lithium demand (in yellow) forecast to increase 9x in a decade.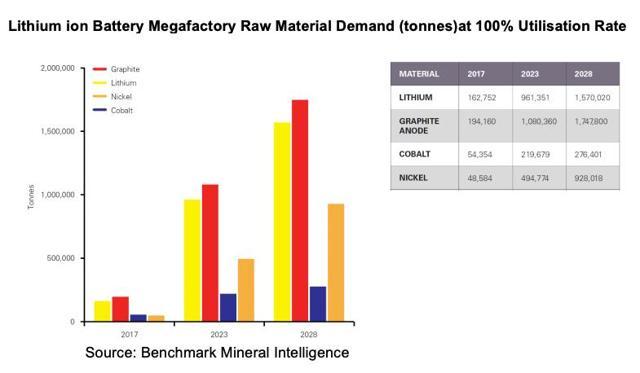 source: seekingalpha.com