In the U.S., Compass Minerals (CMP) and Intrepid Potash (IPI) are two names with sizeable SOP or SOPM (Sulfate of Potash Magnesium) operations. The two companies regularly tout the attractive prospects of their niche markets.
There is, however, a rather rich pipeline of SOP projects around the world. In this article, we will review those projects to assess whether or not they are a significant threat to Compass Minerals and Intrepid Potash.
An Overview Of The Sulfate Of Potash (SOP) Market
Size
Sales volumes of MOP exceed 65 million tons per year, and the market is dominated by giant players like Nutrien (NTR), Uralkali and Belaruskali. By contrast, the size of the SOP market is about 7-8 million tons.
Applications
SOP, which is more expensive, is used on crops that cannot tolerate MOP's high chloride content. MOP, which is in fact potassium chloride (KCl), typically contains more than 45% chloride. SOP and SOPM, by contrast, have less than 3% chloride. Examples of chloride sensitive crops are shown below: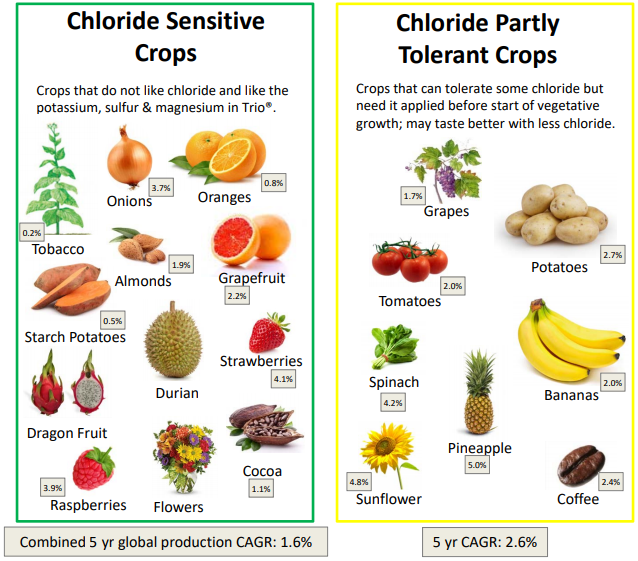 (Source: Intrepid Potash's corporate presentation)
Production
SOP, whose chemical composition is K2SO4, can be extracted directly from brine or minerals (such as langbeinite), or it can be produced synthetically from MOP (KCl).
The most widely-used synthetic process is the Mannheim process (50% of global SOP production):
2 KCl + H2SO4 → 2 HCl + K2SO4
Naturally-produced SOP has two advantages over synthetic production:
a cost advantage, as there is less processing involved (this is reminiscent of the soda ash market, where organic producers like Ciner Resources (CINR) have displaced synthetic production). Below is an estimate of the SOP cost curve: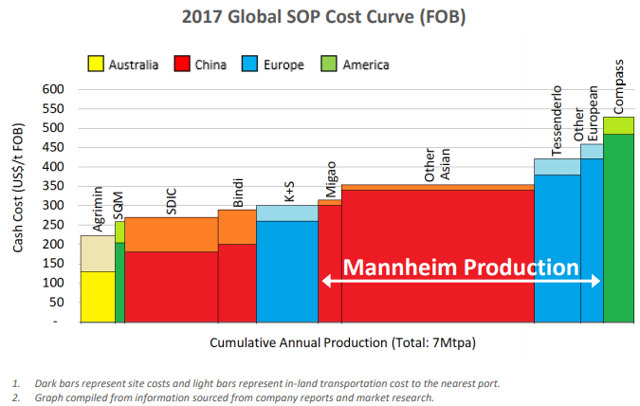 (Source: Agrimin presentation)
Synthetic producers are seen to be on the high end of the cost curve. Note: Compass Minerals' cash cost is probably overstated here, as the company reported an EBITDA margin of 33% for the segment in 1H 2018. It is true, however, that Compass Minerals is not a low-cost producer, since it supplements its solar-pond based feedstock with KCl feedstock, which involves some chemistry.
a certification advantage when it comes to organic farming: Synthetic production is not compliant with organic standards (the Mannheim process releases 1.2 tons of hydrochloric acid per ton of SOP produced), while organically-produced SOP can obtain the certification.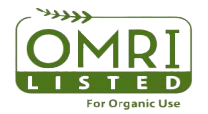 (Source: Organic Materials Review Institute)
Importantly, natural SOP enjoys this organic advantage over the vast majority of MOP production, which, with a few exceptions, is not suited to organic farming. Organic food is expected to be one of the main growth drivers for SOP and SOP-based fertilizers going forward.
Price
In terms of pricing, the premium that SOP (red curve) enjoys over MOP (blue curve) can be seen below. SOP prices currently fluctuate between $500 and $600 depending on the region. There is usually a $200 to $300 premium over MOP prices.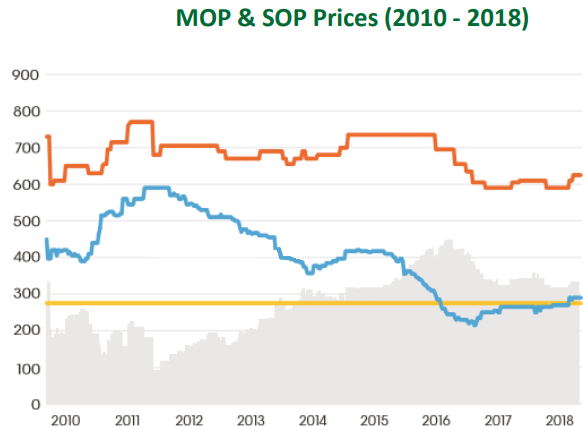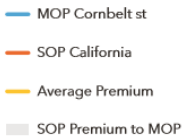 (Source: Salt Lake Potash presentation)
Current Producers: A Key Product For Compass Minerals And Intrepid Potash
China accounts for about 60% of global production. The second-largest producer is Germany's K+S (OTCQX:KPLUY).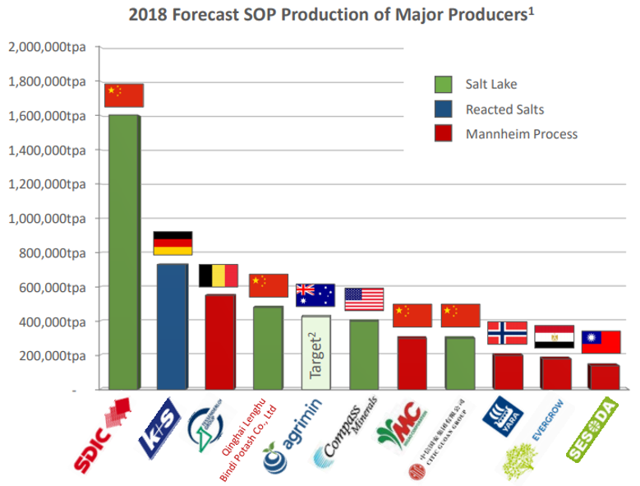 (Source: Agrimin presentation)
In North America, the main producers of SOP and SOP-based fertilizers are Compass Minerals, Intrepid Potash and Mosaic (MOS).
Compass Minerals' flagship product in the SOP space is Protassium+. The company promotes the low chloride content which is typical of SOP:

(Source: Protassium+ website/Compass Minerals)
Protassium+ sales are a significant part of the company's Plant Nutrition North America segment. Compass Minerals' facilities in Ogden, Utah, are the largest SOP production site in North America. The Protassium+ range includes organic-compliant products.
Intrepid Potash produces its Trio fertilizer in Carlsbad, New Mexico. Trio is a SOPM product, meaning that SOP is complemented with magnesium. Intrepid Potash mines the product from a deposit of langbeinite, a mineral whose chemical composition is K2Mg2(SO4)3. Like Compass Minerals, Intrepid Potash has some OMRI-listed grades, suitable for organic farming: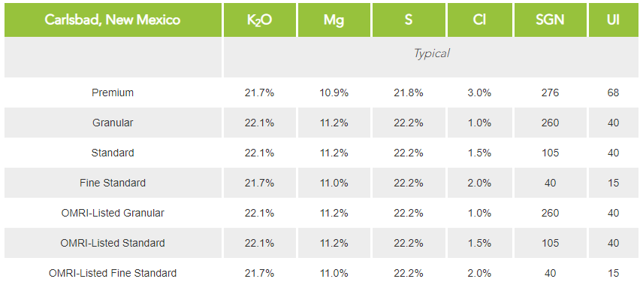 (Source: Intrepid Potash's website)
Intrepid Potash expects Trio to be a growth driver for the company, though profitability has been below expectations of late. Note: Intrepid Potash also has a MOP segment thanks to its facilities in Utah.
Mosaic also mines langbeinite in Carlsbad. Its SOPM product is K-Mag, whose composition is, understandably, similar to Intrepid's Trio:

(Source: Mosaic website)
Since Mosaic has large MOP operations in Canada, not to mention the phosphate segment, the impact of SOP on the overall performance of the company is more limited than in the case of Compass Minerals and Intrepid Potash.
A Flurry Of New Projects
With SOP trading at a significant premium to MOP, the SOP sub-segment has seen the emergence of several greenfield projects in the past few years. Most of them are located in the dry areas of Australia and the Danakil depression in Ethiopia and Eritrea, but there are also a few projects of note in the U.S. and the U.K. Below is a list of the main projects, sorted by state of progress (Scoping Study/Pre-Feasibility Study/Definitive Feasibility Study/Front-End Engineering Design):

(Source: Danakali presentation)
Ethiopia/Eritrea
The local projects are located in the Danakil depression: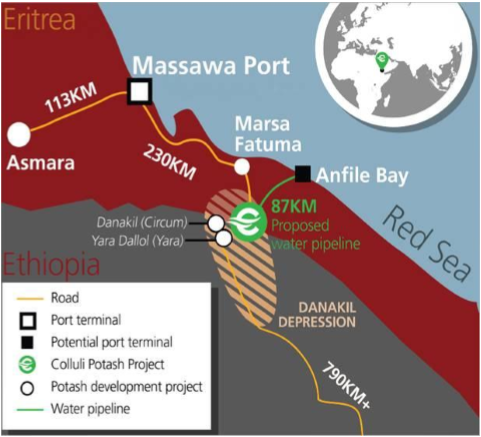 (Source: Danakali presentation)
The most advanced project in the region is Danakali Ltd.'s (DNK:AU, LSE: DNK, OTC:DNKLY) Colluli project in Eritrea. The Australian company plans a staged development of the deposit, with production ramping up to 472k tons per annum in the first stage (2021), and 944k tons per annum at full capacity (from Year 6). Importantly, in June 2018, Danakali signed a take-or-pay offtake agreement with Russia's Eurochem. Investors interested in Danakali can find a recent presentation here.
Circum Minerals, a private company, is another Australian miner aiming to develop a project, Circum Danakil, in the region. First production is scheduled for 2021, and the mine should produce 2 million tons per annum of muriate of potash MOP, and 750k tons per annum of SOP.
Norway's Yara International ASA (YAR:NO, OTCPK:YARIY, OTCPK:YRAIF), one of the world's largest fertilizer companies, leads the Yara Dallol project, also in the northeast of Ethiopia. The project contemplates an annual production rate of 600,000 tons of SOP from underground brine, over 23 years. Progress has been slow, however, and Yara recorded significant impairment charges in 2016. Yara have not communicated much on the project recently.
Doing business in the region is not easy. In 2016, Israel Chemicals (ICL) terminated another Ethiopian project, Allana Potash, due to lack of support from the Ethiopian government with regard to infrastructure.
Australia
The large number of salt lakes in Australia makes the country a prime candidate for new SOP projects.
Reward Minerals (RWD:AU, OTC:RMLDF) has a large project at Lake Disappointment. The plan is to produce 407,500 tons per year of SOP from brine over a 27-year life. The company contemplates first production in late 2021, but the feasibility study has not yet been completed so there is still some way to go. Investors can refer to this corporate presentation.
Agrimin Ltd. (AMN:AU, not to be confused with Agriminco Corp.) is developing the Lake Mackay project, also in Western Australia. Target production (from brine) is 426,000 tons of SOP per year over 20 years. Like Reward Minerals, Agrimin is yet to complete its feasibility study.
Kalium Lakes Ltd. (ASX:KLL) aims to produce 164k tons per year from its Beyondie project. The company has completed a prefeasibility study and plans to start production in 2020, a timeline which sounds very ambitious at this point.
Verdant Minerals' (ASX:VRM) Karinga Lake project, in Australia's Northern Territory, contemplates a 125,000 tons per annum SOP output, and potentially, some SOPM production from schoenite, another mineral containing magnesium (chemical composition: K2SO4·MgSO4·6H2O).
Salt Lake Potash (SO4:AU, SO4:LN, OTCPK:WHELF) is still at an early stage of its Lake Wells project in Western Australia (and a few other prospects), but the company could potentially become a large producer, with plans to produce up to 400,000 tons per year of SOP.
United States
Crystal Peak Minerals' (CPM:CN, OTCQX:CPMMF) Sevier Lake project in Utah is the most advanced North American project. In January 2018, it completed a feasibility study, whose characteristics are as follows:
The FS forecasts average annual SOP production over the 30-year life of the Project of approximately 298,000 metric tonnes (t) with an estimated Net Present Value (NPV) of $730 million (after tax, inflated, 8% discount rate) and an estimated Internal Rate of Return (IRR) of 21% (after tax, inflated).

(Source: Crystal Peak Minerals)
The study's base case assumes a SOP price of $630 per ton; it remains to be seen whether such rates can be achieved in an increasingly competitive field.
The company is also evaluating the potential for some lithium production. It's unlikely that Crystal Peak could pursue both lithium and potassium at the same time.
This is also why, generally speaking, I don't expect competition to come from lithium production, though in theory, some lithium projects could have SOP as a by-product.
SOPerior Fertilizer Corp. (SOP:CN, OTCPK:POTRF), formerly known as Potash Ridge, is another company with a project in Utah, at Blawn Mountain, which targets production of 230,000 tons per year of SOP. The company has a second project, Valleyfield in Quebec, that would use the Mannheim process. I think, however, that the company lacks scale to compete in synthetic production.
United Kingdom
Sirius Minerals' (SXX:LN, OTCPK:SRUXF, OTCQX:SRUXY) project differs from the above-mentioned developments, but given the size of the project, it will have a big impact in the SOPM space. Sirius will mine polyhalite in England's Yorkshire. Polyhalite is a mineral made of potassium, sulphur, magnesium and calcium. Its chemical composition is: K2SO4.MgSO4.2CaSO4.2H2O.
Sirius Minerals' flagship product will be Poly4. Because of its magnesium content in addition to sulfate of potash, it will most likely target the same markets as Intrepid Potash's Trio and Mosaic's K-Mag.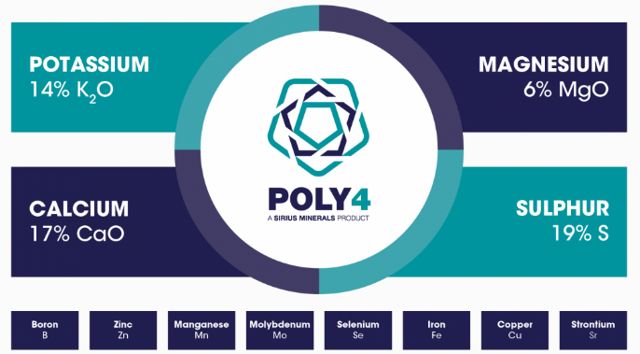 (Source: Sirius Minerals' website)
Construction of the underground mine is underway and Sirius expects first production by the end of 2021, ramping up to an initial capacity of 10 million tons per annum, with a later expansion to 20 million tons.
Sirius Minerals has closed a number of offtake agreements with customers in China, Brazil, and North America where it will partner with Archer Daniel Midland (ADM). I think that Sirius Minerals will definitely be a force to be reckoned with in the SOPM space.
Demand Expected To Increase
Now that we've reviewed the main greenfield project, it's time to take a look at the demand side. We discussed earlier the advantages that SOP enjoys over MOP for certain crops, and its suitability for organic farming when produced with the right processes.
Population growth in emerging markets, the increasing appeal of organic food in developed economies, and stricter environmental regulations are expected to support steady growth in SOP fertilizer demand over the next decade: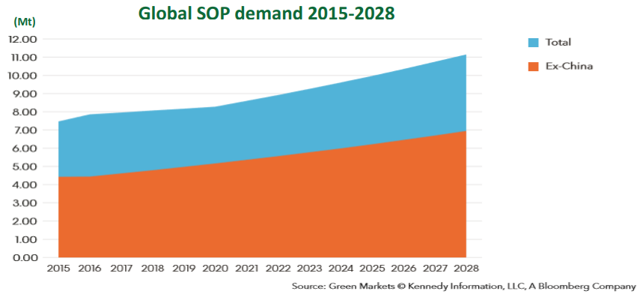 (Source: Bloomberg/Salt Lake Potash presentation)
From 7-8 million tons currently, consumption is expected to rise to 11 million tons by 2028.
The question is, how will demand compare with supply in 2021-2022, when several of the new projects we discussed are expected to start producing? Selecting only the most mature projects, incremental SOP production could theoretically reach 3.1 million tons by 2022:
| | |
| --- | --- |
| Company | 2022 Production rate |
| Circum Minerals | 750,000 |
| Yara | 600,000 |
| Danakali | 472,000 |
| Agrimin | 426,000 |
| Reward Minerals | 407,500 |
| Crystal Peak | 298,000 |
| Kalium Lakes | 164,000 |
| Total SOP | 3,117,500 |
| Sirius Minerals (SOPM) | 10,000,000 |
Based on this estimate, SOP output would grow by 3 million tons by 2022, while demand would only grow by 1-1.5 million tons (to 9 million tons) in the same period.
I don't expect all projects to ramp up as per their current schedule. Actually, even the most mature ones are still working on their financing. Moreover, such projects always involve technical difficulties, so even if all of them get approved, there will be delays. Country risk is also a factor for Ethiopian/Eritrean developments. Therefore, it's entirely possible that the output from the above-mentioned projects will not exceed incremental demand.
In truth, the SOP equation is more complicated than that, due to secondary (synthetic) producers which could consider brownfield developments. China is the big question mark. A mitigating factor is the new environmental restrictions that have resulted in the closure of the most polluting Mannheim-process facilities.
As far as SOPM is concerned, Sirius Minerals' project looks well on track, and the 10,000,000 tons will necessarily have an impact on the SOPM market.
Conclusion: What It Means For Compass Minerals And Intrepid Potash
Compass Minerals – which is also busy solving its salt production issues at Goderich – is not a low-cost producer, and if increased competition weighed on prices, its margins could take a significant hit. SOP can be seen both as an opportunity, with rising demand, or a risk, if new production from Australia and the Danakil region materializes too early. Compass Minerals will expect to keep a logistical advantage in the U.S., but the SOP market trends are something investors should monitor closely.
As far as Intrepid Potash is concerned, there is a short-term priority: convincing the market of the value of the Trio product. At present, the selling price of Trio is too low for the segment to be profitable. The price is actually lower than the value of its components (sulfate of potash and magnesium).
To remedy this, Intrepid Potash is trying to target regions with magnesium-deficient soils, where the added magnesium content represents real value for the farmer. In the longer run, I expect the company to face competition from Sirius Minerals specifically, as the latter will hit the market with a resembling product, at a cheap price.
Finally, Mosaic's K-Mag is similar to Trio, and would obviously be impacted by competition. However, this is a minor part of the company's business, so Mosaic's shareholders should not be too concerned about the dynamics of the SOP and SOPM markets.
Courtesy: Seeking Alpha