It's been barely a month since Canada legalized recreational marijuana and weed stocks are still sucking all the air out of the investor room. Canopy Growth (CGC), Aurora Cannabis (ACB), and Aphria (APH), are simply so volatile they're bound to make headlines every two weeks till weed becomes boring (presumably never).
What seems to be flying under the radar is the the fact that legalization doesn't just mean companies can launch consumer products and partner with celebrities to promote new brands, they can also sell online. That's what puts Canada's ecommerce darling Shopify (NYSE:SHOP) in the right place at the right time.
KeyBanc Capital Markets analyst Monika Garg recently told her clients that several key Canadian provinces, including Ontario and British Columbia, have picked Shopify's platform to run their e-commerce websites and in-store point of sale solutions. She also said that the company had managed to strike deals with the largest cannabis producers in North America, including Canopy Growth and Aurora.
I'm digging into this further to see what impact these exclusive deals and the growing wave of marijuana legalization will have on Shopify's bottomline in a few years.
About Shopify's business
Shopify is probably well known by most investors watching this space. It's not easy flying under the radar when you've managed to take your stock from $17 to $138 in merely three years.
If you've never heard of it, Shopify offers ecommerce merchant solutions to businesses. Basically, it helps supply the online infrastructure people need to sell stuff digitally. Nearly half the business (47% of revenue) is subscription-based. The other half comes from merchant services like shipping, payments solutions, and financing.
If that sounds like Amazon (AMZN) territory, you're right. The difference is Shopify allows merchants to control the online shopping experience, which is essential for any business person who's not just trying to sell, but also trying to build a brand.
While companies such as Salesforce and Facebook could be nipping at its heels, Amazon, the trillion-dollar gorilla, remains the biggest threat. However, Shopify CEO Toby Lütke remains confident the company can attract the sort of online sellers who know Amazon uses sales data to launch competing products on their platform and squeezes them out.
While investors are justifiably afraid of Amazon's recent Storefronts launch, most people forget the fact that Shopify defeated Amazon on its home turf back in 2015.
So that's a brief overview of the business. Now to talk about its marijuana ambitions.
Shopifying Cannabis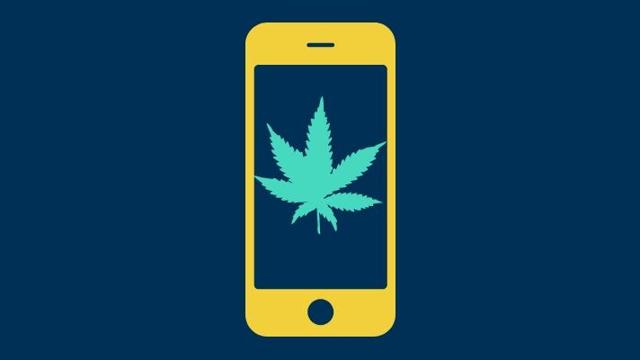 Source: Author's original artwork
Shopify is in a unique space that puts it in the perfect position to capture part of the value from cannabis legalization. North America is the largest market for the substance. The black market here is estimated to be worth $45 billion right now. Medical marijuana could be worth nearly as much if not more.
Canada is the only G7 country where recreational marijuana is legal. The way this legalization is structured gives companies like Aphria, Canopy Growth, and Aurora an edge. These companies have managed to get their provincial sales agreements based on their track record of medical research. Canopy has nearly $4.5 billion in cash after its deal with Constellation Brands, while the other two are on track to dramatically increase sales and launch branded consumer products soon.
With the government giving out licenses to only a handful of players and billions pouring into this market at the top-end, it's likely that Canada's cannabis industry will evolve into an oligopoly like Big Tobacco.
However, Canada's market isn't where the action is. The domestic market is worth just over $4.5 to $5 billion, which is barely bigger than the potential market in the state of Colorado. Meanwhile the global market for medical and recreational marijuana is estimated to be worth $200 billion by 2030.
Half of that will be recreational and half of recreational will be concentrated in North America. So assuming the market is worth $50 billion, and a mere 10% of that is online sales, Shopify has access to upside worth nearly one-third of its current market cap.
The potential size of the market doesn't tell you the full story. Shopify's business model gives it access to all of the upside from this wave of legalization without any of the downside. It doesn't need to invest in production facilities, seek out medical research licenses, pay hefty sin taxes, or spend a ton on marketing brands. Instead, the company just needs to apply the same magic that helped it get these online sales deals with Canadian provinces and large private producers.
Don't just take my word for it, here's an excerpt of a speech from the company's COO Harley Finkelstein:
"We won't comment on specific merchants — as we never do — but we will say that in terms of the revenue from them, we have built the contracts to capture the upside of GMV from these provinces and from these private providers."
The metric to watch is gross merchandise value, and according to KeyBanc's Monika Garg, the potential GMV from cannabis sales in Canada could be as high as $10 billion annually. To put that in perspective, the company's reported GMV of $10 billion in Q3 2018. So the incremental GMV is worth 25% of current GMV.
That's just in Canada. With 71,579 US ecommerce businesses using Shopify, it's already a key player in the North American market. Shopify also has a presence in other key markets where legalization is a possibility, such as the UK, South Africa and Germany.
I'm not saying SHOP is a marijuana stock, but it's hard to deny the fact that the growing global sales of recreational weed will have a noticeable impact on its topline over the next decade.
The only question left for investors is the valuation.
Valuation
It's no surprise that SHOP is making a loss. It's too early in its growth cycle to start making profits and investors seem to know this. The stock is valued purely on the basis of its potential growth, which has been astounding overall but has slowed down in recent years.
Last year, the company delivered 71% year-over-year (YoY) revenue growth driven by a 67% jump in subscription sales and 74% rise in merchant-solutions revenue. This year the company expects sales to grow by just 45%.
Although 45% annual growth is nothing to scoff at, investors need to consider this growth rate against the company's $14.5 billion market cap. Shopify is on track to deliver $1.05 billion in sales this year, which means it trades at a forward P/S ratio of 14x. That ratio is higher than some competitors like Wix (8.3x) and Square (10x) but lower than others like Atlassian (18x).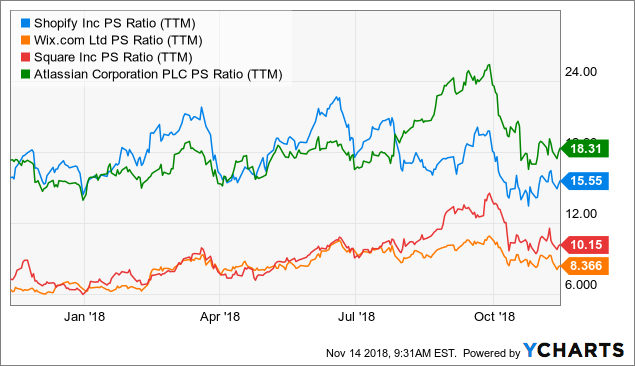 A recent article on Seeking Alpha tried to estimate the company's PEG ratio by assuming a net margin of 25% and a growth rate of nearly 60%. By that measure the stock trades at a PEG ratio roughly 1x. If you take the company's estimate of 45% growth this year, the PEG ratio moves up to 1.34x, which is an indication of overvaluation.
However, a 1.34x PEG ratio is nothing compared to the 100x and more price-to-sales ratios most marijuana stocks trade at. If you're an investor looking for a cannabis play, SHOP might be a great bet. But if you're looking for growth at a reasonable price, perhaps it's better to wait and watch.
Courtesy: Seeking Alpha